June 25th, 2019
The Wixom Community Foundation was awarded the 2019 Outstanding Non-Profit Organization by the Lakes Area Chamber of Commerce on Tuesday, June 25th at the chamber's annual awards breakfast at Edgewood Country Club.
The event gives special recognition to citizens, students, businesses, and organizations in the lakes area community for their involvement and commitment.
Past recipients of this award have been the Scarlet's Smile Foundation, Habitat for Humanity, and the Open Door Outreach Center, to name a few.
The award was presented to WCF's Executive Director, René Saenz, by LACC Board member, Cara Gardener.
"I believe that people that both care, and then take action, really make a change in our community," said Ms. Gardener who also stated, "On behalf of the Lakes Area Chamber of Commerce, truly, thank you for that you do and congratulations".
René Saenz, accompanied by WCF board members Sherry Diederich and Robert Smiley, said "A lot of our scholarship money goes out to college and universities, but it also goes to the trades. Last year we gave out some money to students going to trades schools. There is a big demand for trades."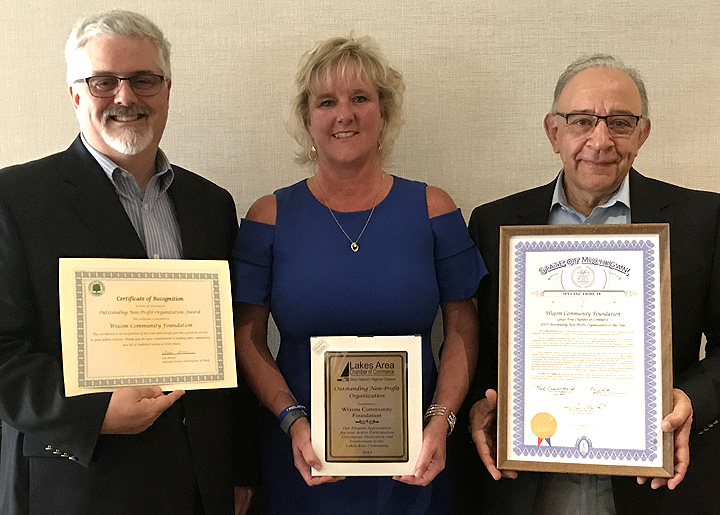 The mission of the WCF is to enhance the quality of life in the community with leadership and stewardship of endowment funds and donations.
The WCF connects corporations and individuals fostering long lasting relationships that are able to respond to the needs of the community and enhance the communities health and vibrancy.
The WCF has awarded $20K in scholarships to 17 different high school seniors from Wixom, Walled Lake, Novi, and West Bloomfield with a broad range of academic majors ranging from computer science, neuroscience, and pre-med to journalism and welding.
The 2019 WCF scholarships will be presented at the annual Lakes Area Chambers' Rockin' Under the Stars event at Multi Lakes Conservation Association on August 3rd.